For more information visit:
https://www.musicnomadcare.com/Produ...nch-11-pc-Set/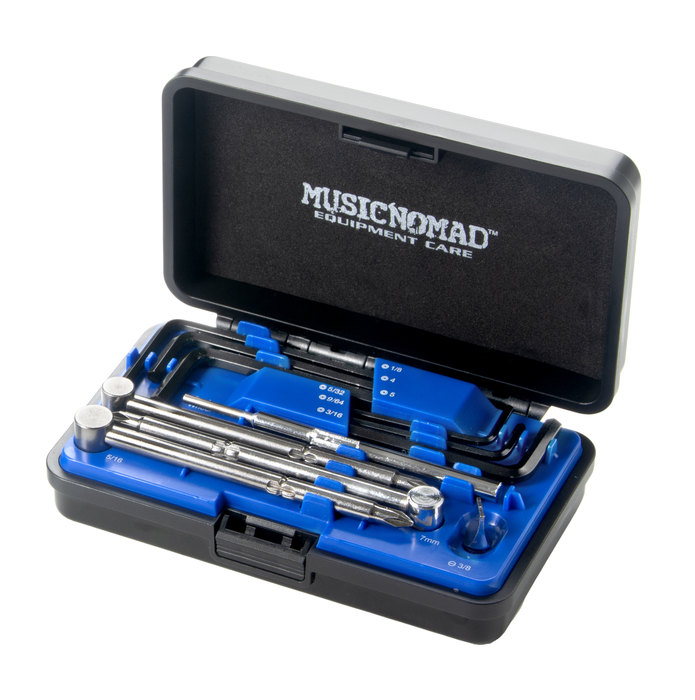 Get organized and get the job done with 11 pc. Truss Rod Wrench Set
January 24, 2020, Sonoma, CA Music Nomad Equipment Care
www.MusicNomadCare.com
. Work on or got a lot of guitars? Stop fumbling around looking for the right wrench. A must have for every gig bag or work station, Music Nomad's Premium Guitar Tech Truss Rod Wrench Set offers unmatched versatility and organization in one compact, rugged case the size of an iPhone. Designed to work on most electric, acoustic, and bass guitars this 11-piece set comes with 6 Allen Key sizes (5/32", 9/64", 1/8", 3/16", 4mm, 5mm), 3 Socket Wrench sizes (1/4", 5/16" 7mm), a specially designed Spoke Wheel tool and a 3/8" Blade bit. "Finding the right size and quality wrench to get the job done is not easy due to all the different truss rod sizes out there" says Rand Rognlien, product designer and CEO of MusicNomad. "All our products are designed to solve problems and make life easier for musicians and techs."
Bonus features include: laser etched sizes on each wrench, 3 magnetized screwdrivers for small truss rod cover screws and the Socket Wrenches and Spoke Wheel tool slide into Music Nomad's Octopus handle (sold separately) for additional leverage and comfort. With hundreds of guitar brands and models out there make sure you check out Music Nomad's Truss Rod Wrench size by Brand coming March 2020 to see a list of over 100 Guitar Brands/Models this kit will work on including Fender, PRS, Gibson, Taylor, MusicMan, Epiphone, ESP, EVH, Gretsch, Guild, Cordoba, Ibanez, Jackson, Knaggs, Charvel, Bourgeois, Takamine, Yamaha to name a few.
Premium Guitar Tech Truss Rod Wrench Set - 11 pcs. Part Number MN235 Available March 2020 - $54.99
About MusicNomad:
Music Nomad Equipment Care (Sonoma, CA), the leader in instrument care launched in 2010 and has 70+ products in over 1000 USA Dealers and 40+ countries. Our award-winning guitar, drum, and cymbal care products are used by top instrument makers such as Tom Anderson, Kala, Suhr, and Eastman Strings in addition to DW Drums and more. Our product is used daily by 100's of international touring bands and top repair shops. We have won Best in Show for Add-Ons and Accessories at NAMM twice. Music Nomad has premium and innovative formulas and product designs for Guitar, Drum and Cymbal, Band and Orchestra, and Piano and Keyboard equipment along with an extensive line of Humidification care products. A portion of all equipment care sales funds MusicNomad.com, a musicians' advocacy website and ONE FOR MUSIC, a program that donates 1% of Music Nomad's sales to music programs and non-profits that play or promote music in everyday life.