It's finally here: the (r)evolution of ukulele tuning pegs: GOTOH UPT Ukulele Planetary Tuners. Smooth as butter, never slips! For how many years have ukulele players suffered awkward, inexact tuning? No longer!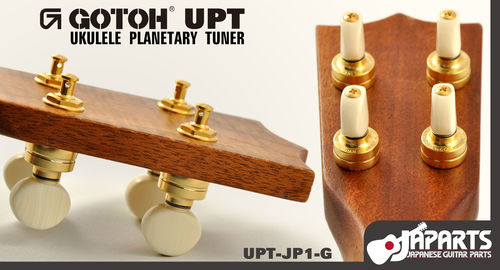 (
see full-size image
)
Concept by Japarts' own Yusuke Kawakami in collaboration with GOTOH. Ivoroid buttons are exclusive to Japarts.ca!
Look great! Feel great! Lightweight! Each tuner weighs only 16 grams!
More information and photos are coming soon, but we can take orders right away. Available in three finishes with eight button options. For Japarts.ca's exclusive ivoroid buttons, the prices are Chrome White: $69.98; Gold: $73.91; Black (not shown): $71.54 per set of four. Bushings, beveled washers, and wood screws are included.
Email or PM me if you would like to know more. Manufacturer inquiries are welcome.
Japarts.ca is proud to be an official agent of GOTOH, the only one located in North America. Feel free to ask any questions you might have about GOTOH products.
__________________
Josh Gemmell
Japarts.ca
Japarts.ca is proud to be the sole official North American agent for Gotoh.
We can supply anything from
their catalog
and would be happy to try to answer any questions you might have.